"Our Bridal Makeup For Your Moment"
Vanshika Chawla is an internationally trained Makeup Artist from The London School of Beauty & Makeup. With a Level 3 Award in Education and Training from the globally recognized City and Guilds, London, Vanshika is also a certified trainer and educator guiding aspiring makeup artists to realise their full potential in the makeup realm.
She has her own studio and makeup training centre, Brush Up in Gururgram which is her initiative to extend, gift and create what she has learnt at the worlds' best makeup institutes for equally passionate makeup enthusiasts. Her along with her team of junior artists are here to turn your makeup & styling wishes and dreams into reality!
Bridal Makeup
Cocktail, Reception Etc.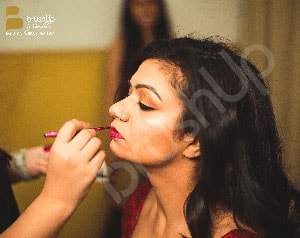 Bridal Trial
Fashion Shoots, Shows Etc.
Dear Vanshika,

Thank you so very much for making my wedding functions so perfect thanks to the lovely makeup you did for me. I have always been afraid of applying anything on my face and I called you for my engagement just on a friend s recommendation and I m so glad I did. You did wonders on my face and my hair were just perfect. Same ways for both my other functions. Thank you for understanding my ways and how I wanted to be in a minimalistic look along with the bridal glow  And the best part of all I found a great friend who I can call anytime, those seven months till my wedding any problems I had you always heard me out patiently and helped get confidence to actually fight it out! I think your nature adds on to ur profession!
Finding a great makeup artist for your wedding is a big challenge and I cannot be happy enough that I found someone as nice as you!
Hope you make great progress in your work  Lots of love Ankita
BrushUp House of Makeup is an excellent academy for makeup and hair tranning. One of the best in NCR. The founder of this institute Vanshikha, is an amazing person with profound knowledge and is a very fine and patient teacher. It was such a pleasure doing a course here where Vanshikha herself makes sure you are doing it the right way. She stay with you through the entire time and guides you how to achieve your desired goal. She is so helpful and alway ready to give tips and educated you about the hacks which is also a very important part of our world. And if I talk about the institute, it is a fully equipped place with lovely staff in it. I am extremely happy I chose BrushUp House of Makeup to polish my skills further. Thanks Vanshikha
Vanshika is such a wonderful educator and is clearly passionate about what she does. She is talented, personable and kind. Definitely would recommend Vanshika to anyone for makeup artist or educator. BrushUp School of Make-up offers students the best and most comprehensive makeup and hairstylling courses, make-up artistry training, and media make up courses affiliated to MASA, London. All 5 star for BrushUp and the founder Vanshika!